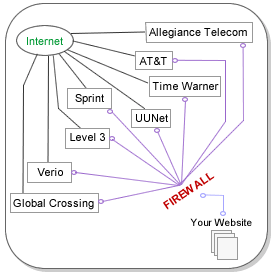 To ensure maximum redundancy and uptime we use multiple providers. Our current internet providers are as follows:
Allegiance Telecom -- 1 Gbps (GigE)
Global Crossing -- 1 Gbps (GigE)
Level 3 -- 1 Gbps (GigE)
Sprint -- 1 Gbps (GigE)
Time Warner -- 1 Gbps (GigE)
UUNet -- 1 Gbps (GigE)
Verio -- 1 Gbps (GigE)
AT&T -- DS3
Data Center
When you host your sites with us you can rest assured that the server you are on is being monitored 24 hours a day with onsite staff. So if you have a problem at any hour of the day someone is available to solve any problems or respond to any requests.
Server Specs
One of most commonly asked questions is what are the specifications of the server my site will be on. The servers we purchase are state of the art, top of the line, servers from Dell Corporation. Each has, on average, 1 GB of ECC RAM, and uses the current dual Pentium Processors at the time of purchase. We spend thousands of dollars on our servers for quality servers. We don't believe servers are the place to save money because our clients demand reliabilty not cost cutting.